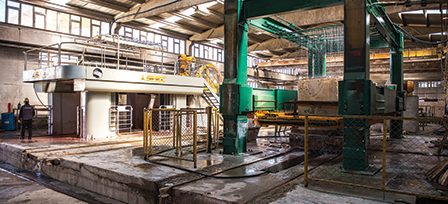 "quarrier & manufacturer"
LÜTFİ TAKAVCI Group has made the first investment in Beyşehir Heavy Industry as LÜTFİ TAKAVCI MERMER A.Ş. in 2004 with their experience and disciplined work, beside their construction projects and TAKAVCI YAPI CENTER which is the biggest building market.
LÜTFİ TAKAVCI MARBLE produces and exports their products in their factory which has 22,500 m2 outdoor area and 9,500 indoor area. The raw materials come from 5 of their own quarries.
Our production understanding is; to work with a team spirit with out dynamic staff, follow the technology and innovations in the sector, get ahead of competitors via caring about Research & Development process, ensure customer satisfaction for achieving the highest quality products. With these components, taking a part in worldwide prestigious projects is one of our company's biggest achievements.
In Factories;
- 1 Unit Italian Simec Gangsaw
- 1 Unit Italian Breton Gangsaw
- 1 Unit Mermak Gangsaw
- 1 Unit Italian Prometec Resin Line
- 1 Unit Italian Breton Slab Line
- 10 Units Block Cutter
- 14 Truck
- 1 Truck
- 4 Truck
- 6 Units Horizontal Splitting Machines
- 7 Units Tile Lines
- 2 Units Filling Lines
- 3 Units Vibration Machines
- 6 Units Multi Sizing Lines
- 2 Units Moulding Lines
- 2 Units Chisseling Units
- 2 Units Pool Coping Lines
- 1 Unit Moulding Line
- 3 Units 160 Tons Weighted Compressive Water Treatment
- 4 Units Overhead Portal Cranes
- 5 Units Forklift